EpicTech Media was founded in January 2014 by two young media students, with one clear vision, to provide quality video to companies big and small. Today, we do just that. Our dynamic team is equipped with the very latest technology and equipment. We're proud to say that everybody we work with is passionate about what they do, and this combined with our unrivaled enthusiasm means we create innovative and bespoke products for our clients across the globe.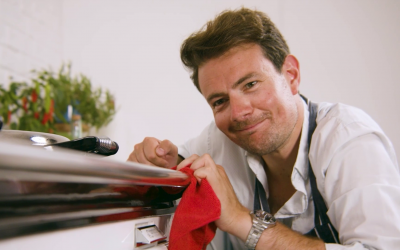 eControl CookersThe Client UK Innovations developed the eControl System, to turn traditional Agas into modern cooking machines with fine temperature control! UK Innovations had recently launched the product and were looking to pick up the pace of sales with their new...
Quadient: Supercharge your CXEpicTech made filming our conference easy - they took the stress off our shoulders, made recommendations and allowed us to focus on other aspects of the event, and most importantly the final videos are excellent.Recent Projects
PanasonicThe Project Panasonic approached us in early 2022, with a brief to promote their new UE50 and UE80 PTZ cameras, as well as their integration with the Polecam PanaPod system. We were tasked with shooting a range of behind the scenes footage to be used in a...
What do our clients have to say?
It's been a pleasure to work with EpicTech on a long and demanding project. They gave us quality service and delivered a series of products that we were very happy with. Their team has the flexibility and responsiveness to enable a strong working relationship. We'd recommend them to businesses looking to develop audio-visual materials and collateral without hesitation. Many thanks!
Mike   Creative Lead, Cyber Security Agency
The making of the video involved a variety of challenging filming locations across our distribution network, which the EpicTech helped to meticulously plan at our peak time of year. The film has been well received within the Partnership, telling our story in a visually-engaging manner to a cross-section of the John Lewis workforce. We wouldn't hesitate to work with EpicTech again.
Francesca Bartoli   Project Manager, John Lewis 
"The final outcome was beyond our expectations and delivered is a phenomenally exciting and engaging video. This allowed us to reach new audiences and connect with them through a number of channels such as email, Facebook, twitter and out websites."
Laura Hazelton   Marketing Director, BMW Specialist Cars
"The videos produced are high quality and very professionally edited, which is the image we need to present as an organisation. We have already seen a return on our investment from sales linked to enquires from the videos."
Tim Guest   Director, Zoedale
A practical approach to videography from a team who clearly know what they are doing.
Eppie Anderson   Marketing Director, Robinsons Manufacturing
"EpicTech have gone way beyond what I thought was possible, truly stunning films and a pure joy to work with. These guys know their stuff and I fully recommend them to anyone wanting to have their event filmed"
Michael Pipe   Music Promoter, The Ent Shed
 We're a friendly team, and we don't bite! If you like what you've seen and you'd like to get in touch, please feel free to use this form or our contact details below. We look forward to hearing from you.
Telephone: 
+44 (0) 1234 889 785