The Project
For our first project of the year in 2022 we took an exciting production to create a live broadcast of the finals of the Bedfordshire County Closed Squash Tournament, from Club Towers Health and Racquets Club. The project was streamed live to Facebook and YouTube where people across the county could tune in and support their club.
2 of the final matches of the competition were streamed from a 4 camera set up by a two person team, between them managing live scoring graphics, vision mixing, audio and even instant replay. The entire project was delivered in a 3 day timescale, and set up and production took place on a single day.
One super wide angle camera was mounted above the rear of the court to give the audience an unobscured and complete view of the match. An additional two slow motion cameras were positioned in the rear corners of the court to be cut in both during points to show certain techniques the players were utilising, and in between points for instant replays. A fourth remotely controlled PTZ camera was also included to capture shots of the audience watching the match, and keep the broadcast visually engaging even during breaks in the game.
In addition to this a full custom graphics pack was designed to allow the audience to get all the scoring information in real time!
Check out the full recordings of the matches below.
Matt Towers, owner of the club, gave us a few kind words on our work on the project.
EpicTech managed to turn around a very high quality production, in just three days. It featured multiple camera angles, live scoring graphics, instant replay. Space was a big limitation, but the EpicTech team were able to set up four cameras with great angles to see the game, without intruding on the audience's view. The equipment that they provided was just right for the job. In addition, with limited set up time or space available, they created the whole broadcast with just two operators who set up inside a neat production mask kit to ensure all cables were hidden from view. This was our first time live streaming a squash match from the club, but we felt confident throughout that EpicTech had the knowledge and experience to deliver on our requirements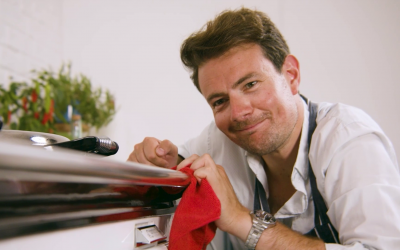 eControl CookersThe Client UK Innovations developed the eControl System, to turn traditional Agas into modern cooking machines with fine temperature control! UK Innovations had recently launched the product and were looking to pick up the pace of sales with their new...
Skyhigh Skydiving NationalsThe Project SkyHigh Skydiving came to us after our work on the British Nationals in Indoor Skydiving. They were looking for a company to live stream the outdoor competition over two days, something that had previously not been done before!...
Quadient: Supercharge your CXEpicTech made filming our conference easy - they took the stress off our shoulders, made recommendations and allowed us to focus on other aspects of the event, and most importantly the final videos are excellent.Recent Projects